Welcome to Year 3/4
" Full of grace, we grow and learn together."
Our class timetable: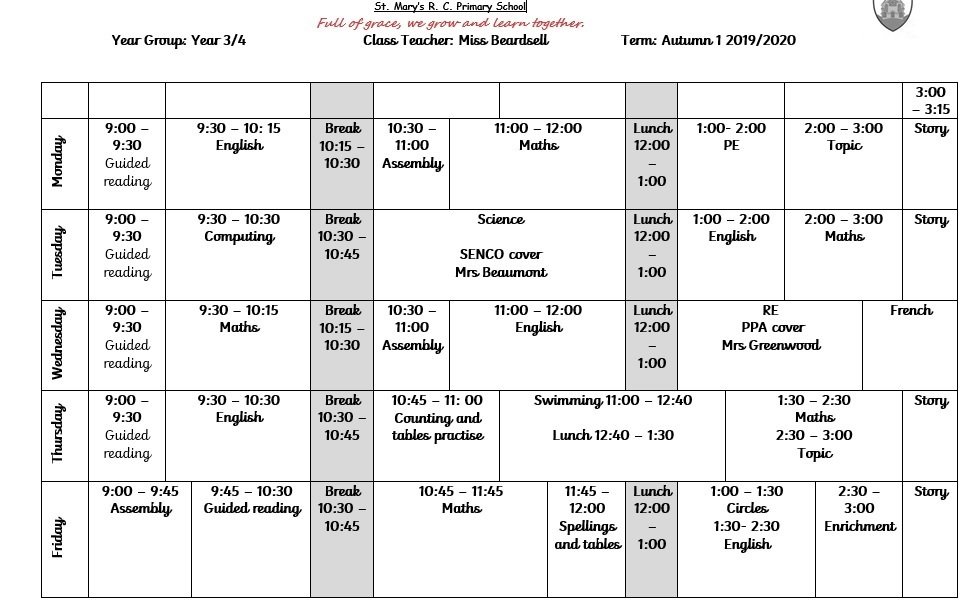 PE - this term will be on Monday and swimming on Thursdays.
Please ensure that your child has their PE kit in school. School PE kit is white T shirt, black shorts and pumps or trainers.
Swimming kit. Girls this must be a one piece swim suit. Boys- swimming trunks, not loose board shorts.
Autumn Term Curriculum
Our curriculum question in the Autumn term is,
"What can we learn from life Before Christ?"
If you want to know more, come and see the curriculum map that is up in our classroom. This shows how this question is investigated through all the National Curriculum Subjects.
We also make links with our school values of:
KINDNESS, RESPONSIBILITY, RESPECT, TRUTH, FORGIVENESS, JOYFULNESS and JUSTICE
We are looking closely at how life changed through The Stone Age, Bronze Age and Iron Age in History this is closely linked with our English work. Our class text is "The Boy with the Bronze Axe" by Kathleen Fidler.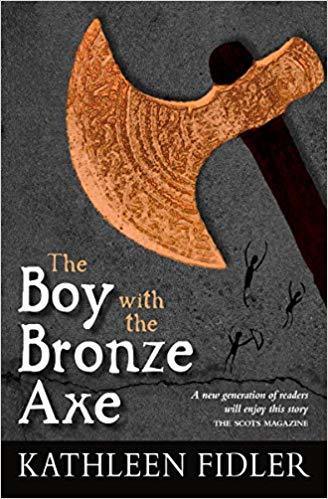 If you would like to do some research at home about life Before Christ why not try these websites:
The school run website- this has lots of information about a huge range of topics taught in school.
A general introduction to prehistoric Britain from BBC Bitesize
A illustrated prehistory timeline
HOMEWORK:
Your child will have spellings to learn every week. Spellings will be linked to the spelling rule being taught that week but there are also a set of Statutory spellings which Year 3 and 4 pupils are expected to spell by the end of Year 4.
Please find below the statutory list for Year 3/4. These will be set as spellings to learn at different points in the year but they can be worked on at anytime with your children.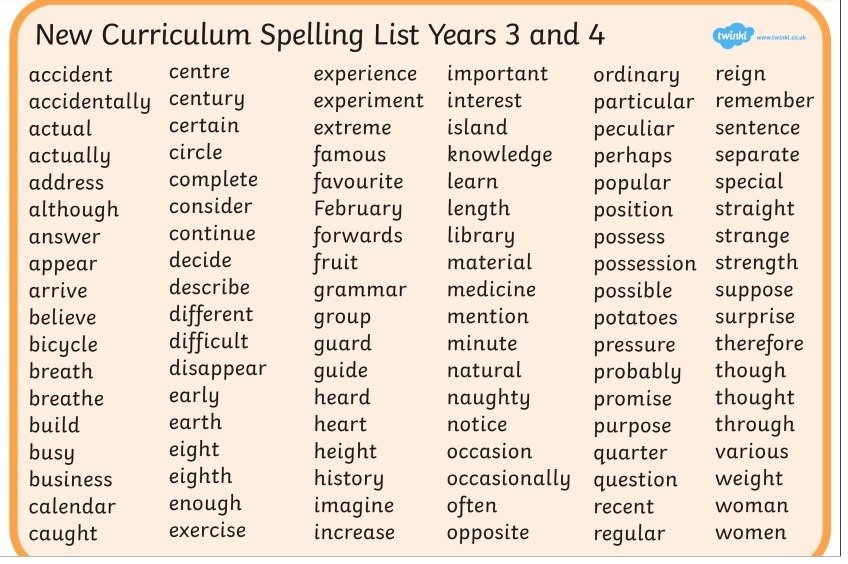 MATHS
All pupils have been reminded of their login for Times Tables Rockstars. Please contact Miss Beardsell if you did not receive the letter as your child will need their username and password to access this online.
Click here to be directed to the Times Tables Rock Stars web page.
It is crucial that all children have a secure knowledge of times tables and division facts to help with arithmetic and problem solving work. Year 4 pupils will have an times tables test at the end of the year.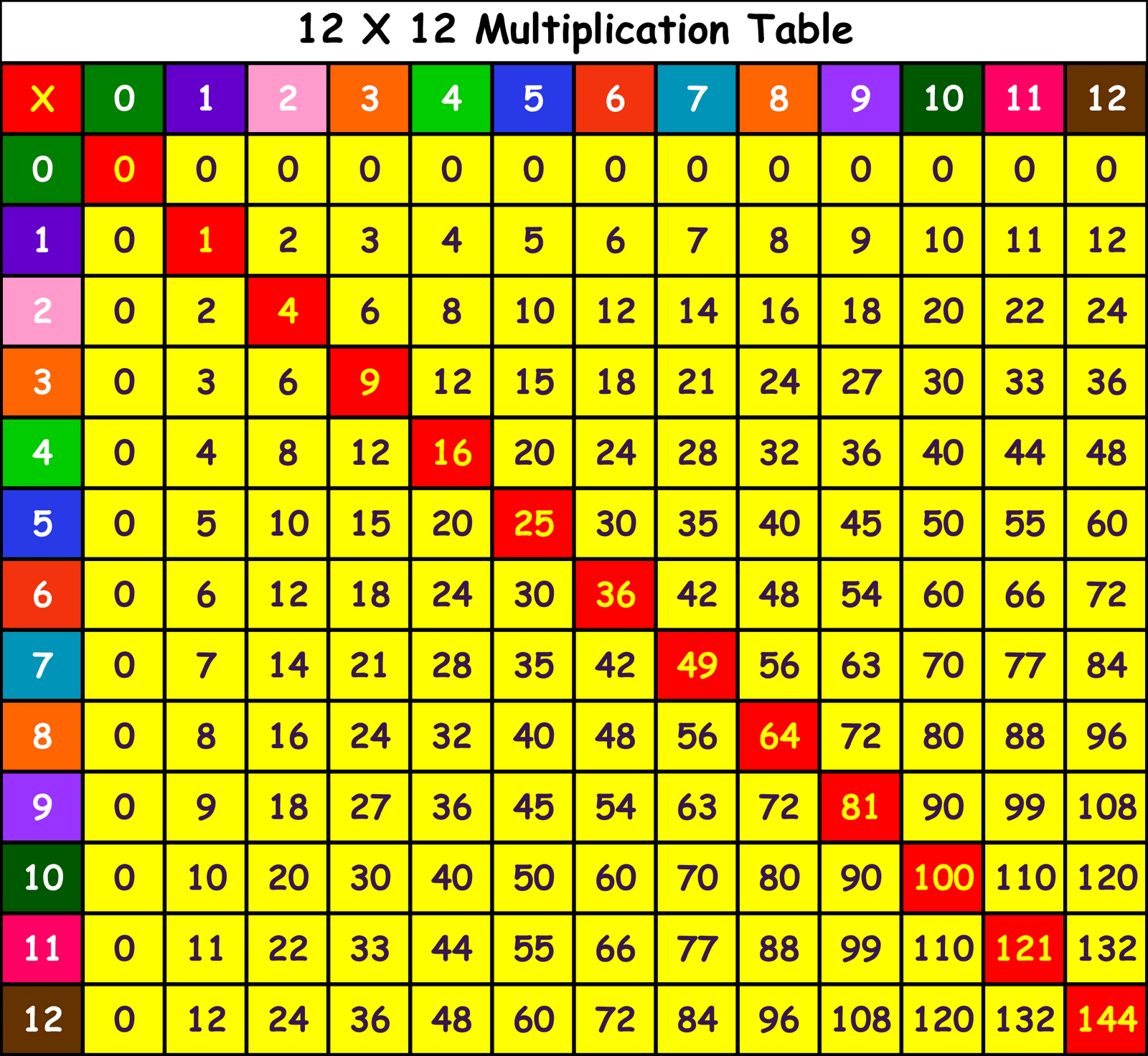 Pupils will be given other pieces of homework from time to time and this will be to support and extend work completed in class.
READING
There are opportunities for pupils to read in school but it is important that they read every night at home.
As part of homework, we would like the children to read for at least 20 minutes every day at home. This helps to increase fluency and understanding.
We do have a range of texts on offer in school which includes fiction and non fiction books, comics, magazines and newspapers (First News for children) so feel free to encourage your children to read a breadth of material at home too.
We want to foster a love of reading and we hope that our children will not only read for pleasure now at school but as they go onto high school and in the future.
As well as our reading books linked to our Curriculum topics, we have a class reader which an adult reads to the class every day.
Our first class read is, "Demon Dentist" by David Walliams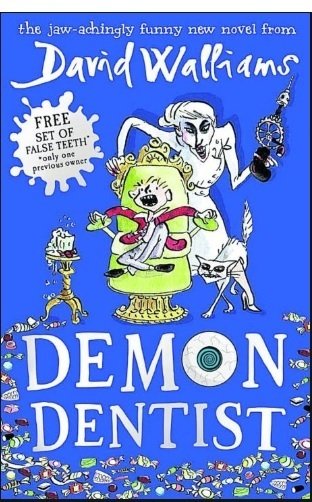 Please find below the link to to recommended lists for Year 3 and Tear 4. These lists include challenging, quality texts for Year 3/4 children.
The list is not exhaustive and your children may also have other authors who they love to read.
These are just here as a guide in case your children visit the library and may want some idea of a good book to read.
We will keep our page updated with news and photos so please keep an eye on our class blog during the term.
Miss Beardsell